Increase in holiness with Hallow
The best apps don't just make life easier, but better. They meet us where we're at, and help us get where we want to go. Say hello to Hallow.
The best apps don't just make life easier, but better. Maybe they help us be more organized, more productive, or better at a hobby. Maybe they connect us to others so we can challenge, encourage, and inspire one another. Maybe they meet us where we're at, using the technology that so often distracts us, and pulling us back to where we really wanted to be anyway.
I just discovered Hallow, which doesn't mean a it's brand new, because apparently I'm always behind the game. My wife says she read about it a couple years ago, which is apparently about when it came out, so I doubt it did much then. They've obviously been very busy since then!
After using it for a few days I'm hooked. Seriously, I signed up for the free trial, and just canceled it to buy the family plan so we can all use it. I think it's that good. There's something here for everyone, and it's only $100/yr for up to 6 people.
Routines
Are you a creature of habit? You can schedule reminders for pretty much anything they offer. I think starting the day with a reflection on the gospel, and ending it with a daily reflection, sounds good for starters.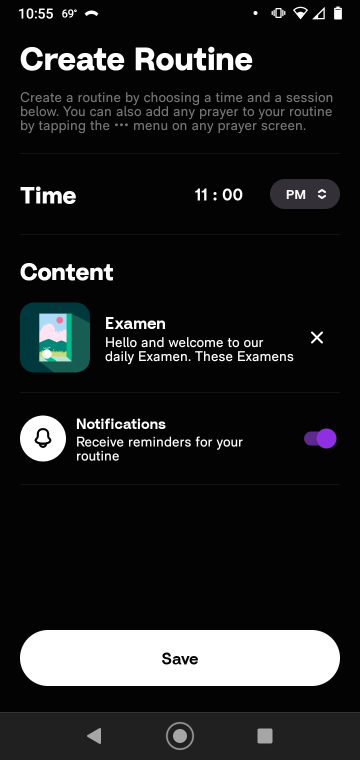 Journaling
After you get done doing your uh, anything, you can journal about it. If a thought strikes you, you can add a note, which are all accessible from your profile page. I wish they were searchable, since you could end up with hundreds of entries, but there's a workaround at least. More on that in a bit.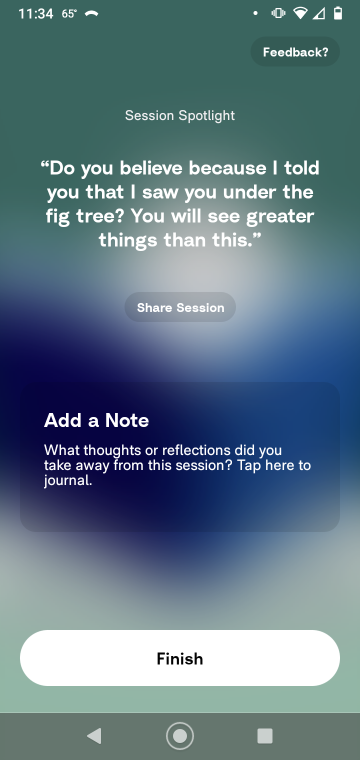 Community
Find it easier to pray when you know thousands of others are praying along with you? Sign up for one of their community challenges, and test the power of prayer.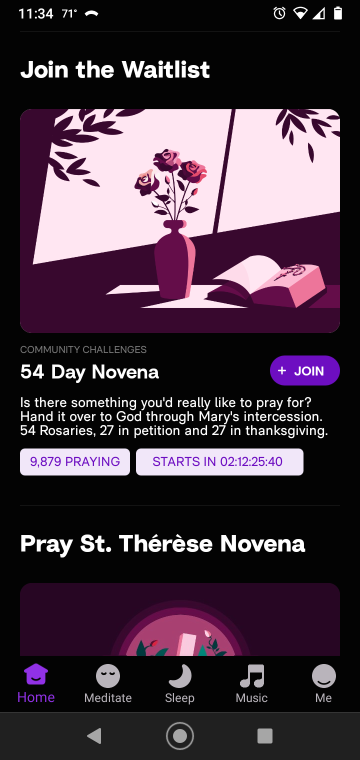 The challenges sorta bring people together, but not in a really personal way. On the other hand, Hallow has this concept of groups, too. Anyone can create a group, invite a group of friends, and then you can all share prayer requests and your notes/thoughts on the reflections and stuff. You can schedule a time for the group to do a reflection together too, like mini-challenges I guess.
It'll be interesting to see if they develop this a little more. I was hoping groups could chat more interactively, encourage each other, setup a date to meet in person. Currently, it's kinda like being able to read each other's blogs.. but not comment on them. Unless you wrote your own post replying to theirs. I think the analogy is falling apart. Oh, and yeah my group icon was an alien head.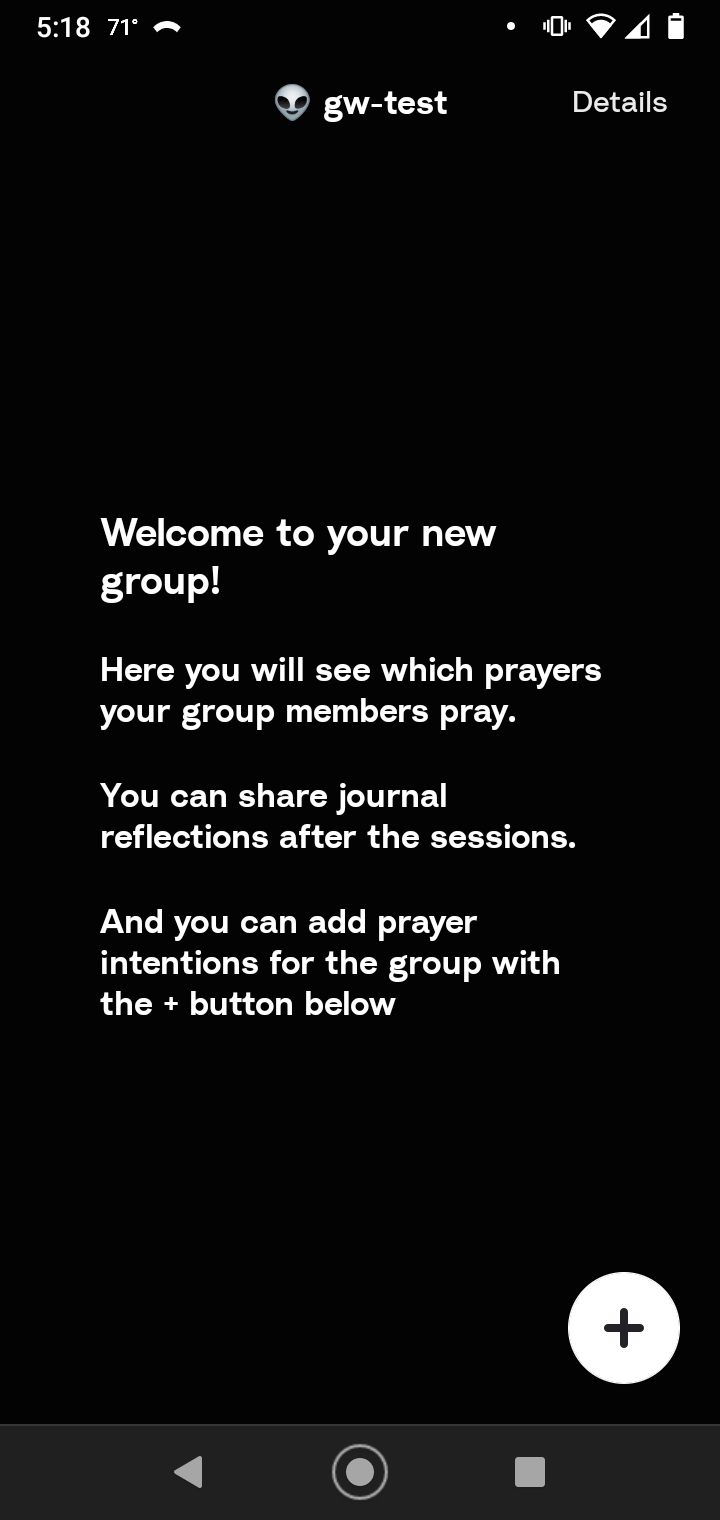 Relaxation
I've been kinda hooked on the instrumental music. I hope there's eventually a way to listen to music and do something else in the app at the same time, but since nearly everything seems to be audio instead of reading, it probably doesn't matter. There is an option on some things to play background music, but I'm not sure it's working. It's been nice while I'm working though!
There's meditations too.. haven't checked them out yet, but they're listed under sleep so I'm willing to bet they're not, you know... those screaming, angry kinds of meditation. Heh.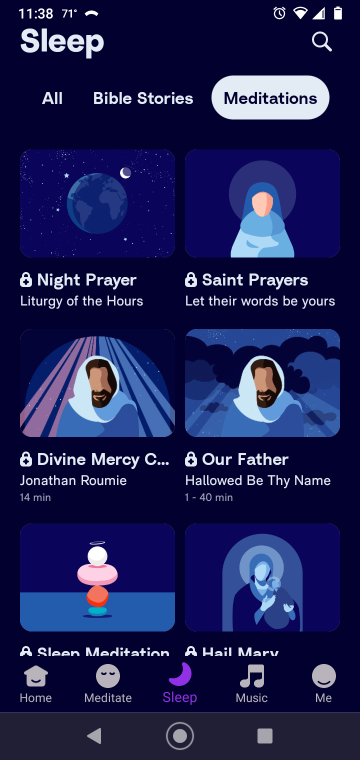 Stats
I just know this is gonna be a hit with the Fitbit fans out there, although it's definitely not my cup of tea. I don't think everything has to be measured, but I get that that's the driving thing for some people.
There's stats built in, but they definitely need some tlc. I noticed "minutes prayed" increased even when I was just listening to music.. and the music was paused. I'm not sure what qualifies as prayers for the "prayer goal", but if it's doing literally anything in the app, that shouldn't be tough to hit. You can add prayer sessions but not really delete them.. and the green blobs don't tell you much about what you did that day.
But again, I just don't care about stats that much. So if anyone asks me what my top 3 most wanted items are, this page won't be on them anyway.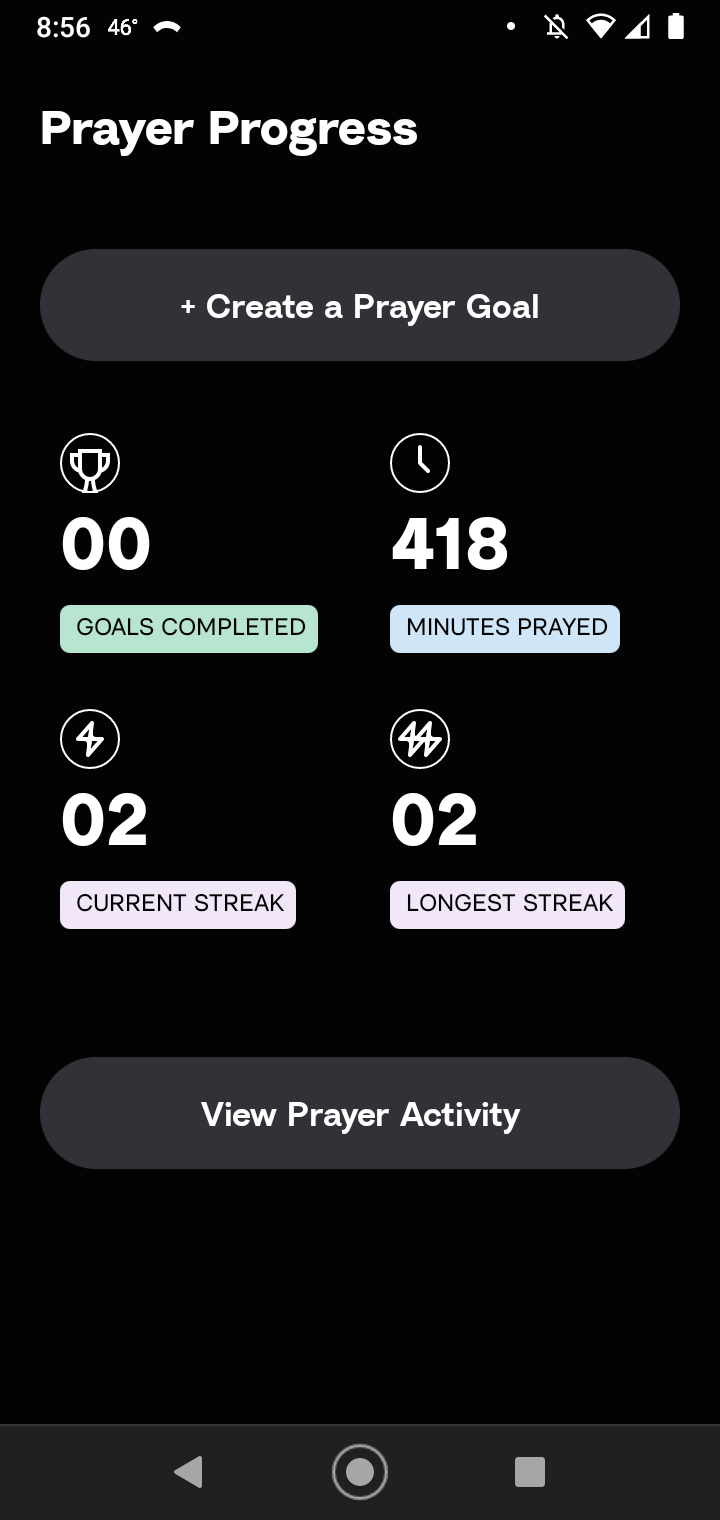 Technical dorky stuff that makes me smile
Downloading locally
Pretty much everything is downloadable for offline use, so that's great. Just need an option to select the SD card as a download target. That music and those podcasts are gonna fill my phone up quick!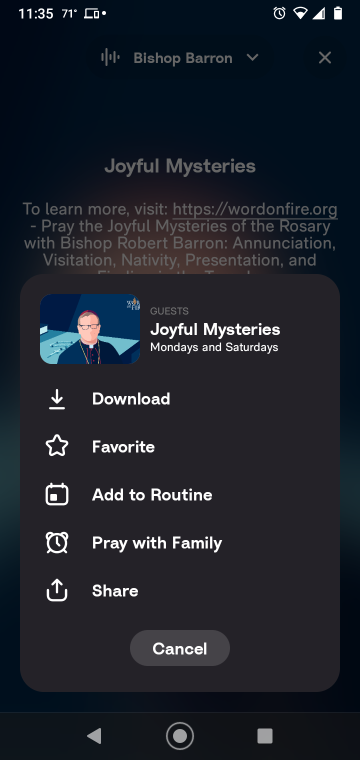 Exporting journals
The journals / notes /reflections / whatever we're calling them are exportable. You can save them. Yay to an app not holding your data hostage. And that's the workaround for not having search either I suppose. If you really wanted to find something, just export it, open it on your computer, and search it there.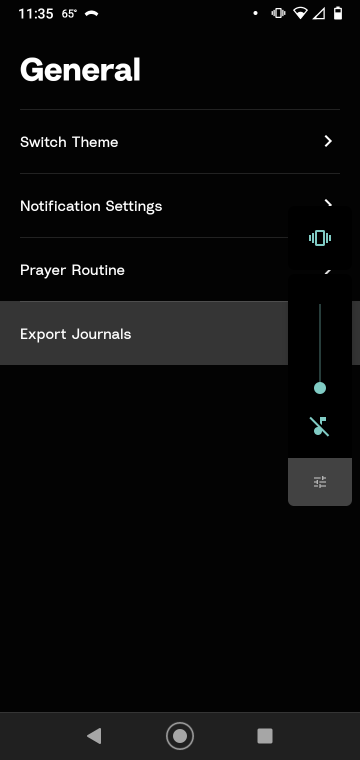 Other stuff
There's a lot of options that really show how much care has gone into the app to make it easy to use.
Light vs dark mode is a hot topic these days, and you can choose from either or just let the system decide.
Help is built in.. don't have to hunt down the help page on the website. Nice.
There's a "recently prayed" list, which is great. I just hate reading or watching something, then never being able to find it again.
Many of the reflections and challenges, etc, are actually narrated by multiple people, because let's face it.. one person can listen to someone talk all day, and someone else is gonna think they're grating.
I wish there was an ability to read the daily gospels and some of the other reflections, because sometimes I just want to read quietly with music playing instead of listening to everything. Another app I like, which complements this one and is heavy on reading scripture, reflections, and prayers is Laudate.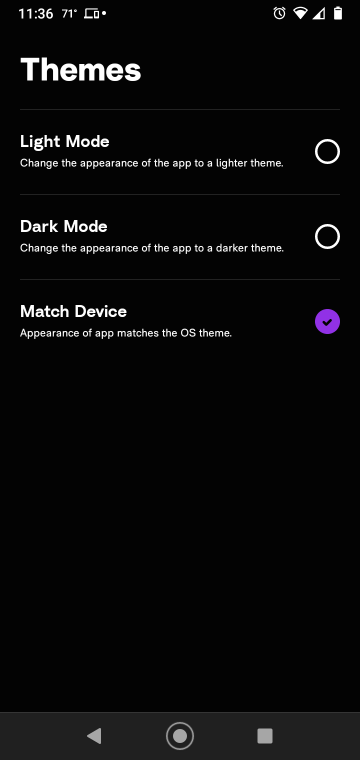 That's all I've got. Definitely a huge new fan here. Go check them out!