In an ironically named blog post titled "Changing how Google Drive and Google Photos work together" (which could be summarized as "they won't anymore"), Google explains how your photos will no longer sync with Drive, because "simplification, less confusion, something something".
Anyone who used it is greeted with this message:

Unfortunately, Google has a nice little utility called Backup and Sync, which conveniently and reliably backed up Drive to your PC. That included your photos. Which no longer works. 🙄
Here are some solutions, from least better to best better.
---
Solution 1: Select new photos and download them
Every once in awhile, go to photos.google.com, select all your new photos and download them.

---
Solution 2: Schedule a download (sort of) for a year
Every year (on your birthday? Christmas?), go to takeout.google.com and schedule to get a download link containing your photos every other month. In the "customize archive format" screen, be sure to choose the "scheduled exports" option. You can still go back and download everything periodically, but at least this is somewhat automatic.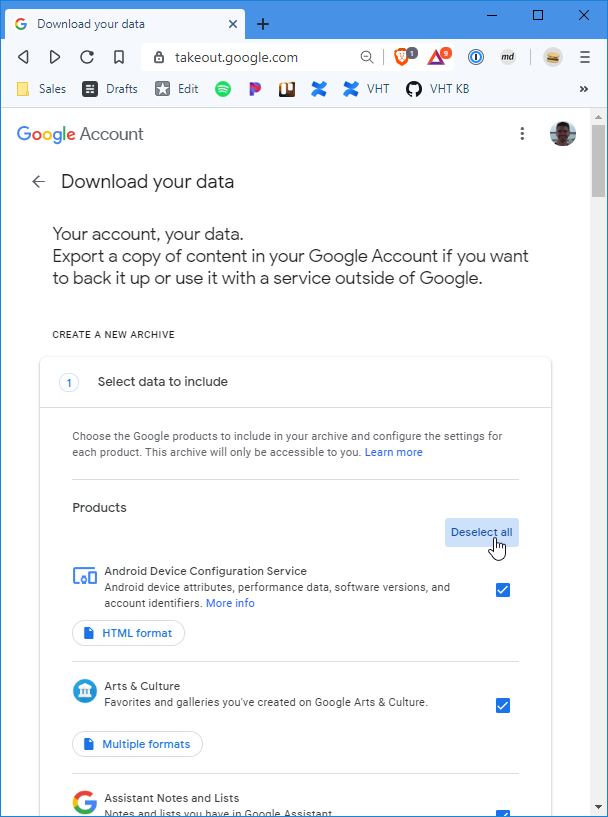 ---
Solution 3: Write your own script to download photos
Make use of the Photos Library API to write a script that downloads new photos. Set it up as a service or whatever, so it runs periodically when your PC is on.
If you go this route, you'll want to read their Getting started with REST guide for how to enable the Google Photos Library API. Have a drink nearby, because this is guaranteed to be somewhat painful. I enjoy exploring APIs, but I find Google's to be tough to figure out sometimes. I was going to give it a go anyway, but then I found a better solution...
---
Solution 4: Find a mobile app that syncs photos to Drive
Don't reinvent the wheel unless you have to. Find a reliable mobile app that'll back up your photos for you. I have absolutely no affiliation with the following one, but a quick search turned up PhotoSync, available for iOS and Android, and I like it so far.
Here's the steps I followed to backup to a device on my network:
Install the free desktop app, available for Windows and Mac.

It configures the firewall on your PC to allow communication on a particular port, from within your network.
It also installs a service that listens for connections from your mobile device (again, on your network).
Under settings:

Check the "Receive" tab, and make sure it'll save where you want.
Under "Device auto detection", select "Restart device auto detection periodically" and set to "Every 5 minutes" (more on that below)

Check your wifi settings.

Make sure the network is set to "private" instead of "public", so your devices can find one another.
Also, I had issues when both devices were on the "guest" network even though it's private.. something to keep in mind. Might just be my router.

Install the mobile app on your phone.

Select a photo, click the red circle, and select your device, which should automagically show up, unless your router is blocking things.
Check your PC to make sure the photo was transferred to your PC.
For $2 you can nix the ads and enable auto-transfer. It's incredibly flexible, letting you backup whenever when certain events take place, like taking a new photo, charging your device, or on a schedule. I set it to run the sync every 6 hours. Just go into settings on your mobile device, and configure the "Autotransfer" settings.
For $4 (these are not huge amounts folks), you can backup to various cloud services (not just Google Photos), and to NAS devices. I haven't tried these features, but one of them is to upload photos to Google Drive - so if you were already backing up Drive to your PC, then you could just enable this option and leave everything else in place.
Thanks for encouraging competition in the free market, Google. 😂