In an ironically named blog post titled "Changing how Google Drive and Google Photos work together" (which could be summarized as "they won't anymore"), Google explains how your photos will no longer sync with Drive, because "simplification, less confusion, something something".
Anyone who used it is greeted with this message:

Google had a nice little utility called Backup and Sync, which I guess is just Google Drive now, that conveniently and reliably backed up all your Drive files to your PC.... including your photos, which no longer works. 🙄
Here are some solutions, in no particular order (although using someone else's app is the easiest solution in the long run, so maybe just skip down to solution #4).
---
Solution 1: Select new photos and download them
Every once in awhile, go to photos.google.com, select all your new photos and download them.

---
Solution 2: Schedule a download (sort of) for a year
Every year (on your birthday? Christmas?), go to takeout.google.com and schedule to get a download link containing your photos every other month. In the "customize archive format" screen, be sure to choose the "scheduled exports" option. You can still go back and download everything periodically, but at least this is somewhat automatic.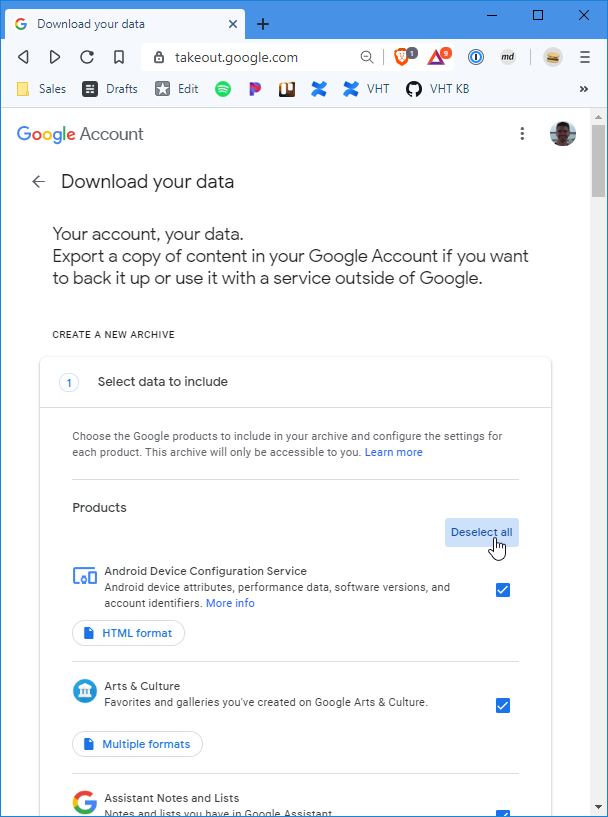 ---
Solution 3: Write your own script to download photos
Make use of the Photos Library API to write a script that downloads new photos. Set it up as a service or whatever, so it runs periodically when your PC is on.
If you go this route, you'll want to read their Getting started with REST guide for how to enable the Google Photos Library API. Have a drink nearby, because this is guaranteed to be somewhat painful. I enjoy exploring APIs, but I find Google's to be tough to figure out sometimes. I was going to give it a go anyway, but then I found a better solution...
---
Solution 4: Find a mobile app that syncs photos to Drive
Don't reinvent the wheel unless you have to. Find a reliable mobile app that'll back up your photos for you.
OneDrive
An obvious one (to me at least, but as a developer I use Microsoft services a lot) is OneDrive, which is as secure as anything (and more than most) and has a 5 GB free tier. Most of us have more than 5 GB of photos, but if you're syncing to your PC and are good about moving things out of the OneDrive folder, you might be able to get away with it. Or $20/year gives you 100 GB of space.
PhotoSync
There's a an app called PhotoSync, available for iOS and Android, that I used for a couple years and liked.
For $2 one-time, nix the ads and enable auto-transfer.
For $4 one-time, backup to various cloud services such as Google Drive. If you were already backing up Drive to your PC, then you could probably enable this option and leave everything else in place.
The only caveat is that I wish you could setup multiple targets and sync triggers (if you try it out, you'll see what I mean), but it worked well for me. I ended up setting it to sync all new photos every 3 hours when I'm on my home network. There's a companion desktop app you have to install too, if you go the same route as I did, so that it can communicate with wherever you're sync'ing to.
Autosync
Another app is Autosync, which can sync up to a lot of different services (Google Drive, OneDrive, etc) as well as FTP, WebDAV, and more. I haven't tried it yet, but the reviews suggest that the UI is easier to navigate than what I've seen in PhotoSync.
One downside compared to Photosync is the price. There's a 14-day trial, but then you're required to make a purchase.
$10 one-time per sync target (i.e. Google Drive or OneDrive)
$4/mo subscription, to sync with everything
Thanks for encouraging competition in the free market, Google. Sigh...