Let's face it - no one was sad to wave off 2020. We contended with a global pandemic, loss of lives and jobs, and the need to reinvent how we do nearly everything, from work to grocery shopping to childhood education.
People everywhere are desperately in need of things to be hopeful for. For Catholics, there's a rich tradition of hope and redemption in the face of struggle, going back thousands of years. There's daily readings, meditations, prayers for every occasion, the lives of the saints, and the same Mass celebrated by over a billion people.
It's not a question of whether there are resources, but where to find all those resources!
---
A Labor of Love
The Laudate app (Latin for "praise") by Aycka Soft brings them all together in one free app. It's been around for about a decade, is updated monthly (or more), and is available pretty much everywhere - Amazon (Kindle), Apple (iPhone, iPad), and Google (Android).
That it's free and without ads, and works across every major portable device, means this is definitely a labor of love. Amazon doesn't charge to host apps, but Google has a one-time cost of $25 and Apple charges $99 every year, not to mention the countless hours the developer has poured into adding more resources.
What does it provide in the palm of your hand? After a little digging...
daily readings and reflections on them, which is my personal favorite
walkthroughs for the rosary, chaplets, the stations of the cross, examens, etc
prayers for every occasion, and the ability to add your own
the liturgy of the hours from universalis.com
reference materials, like the order of the Mass and liturgical calendars
links to the catechism, vatican documents, podcasts and meditations, daily Masses, and so much more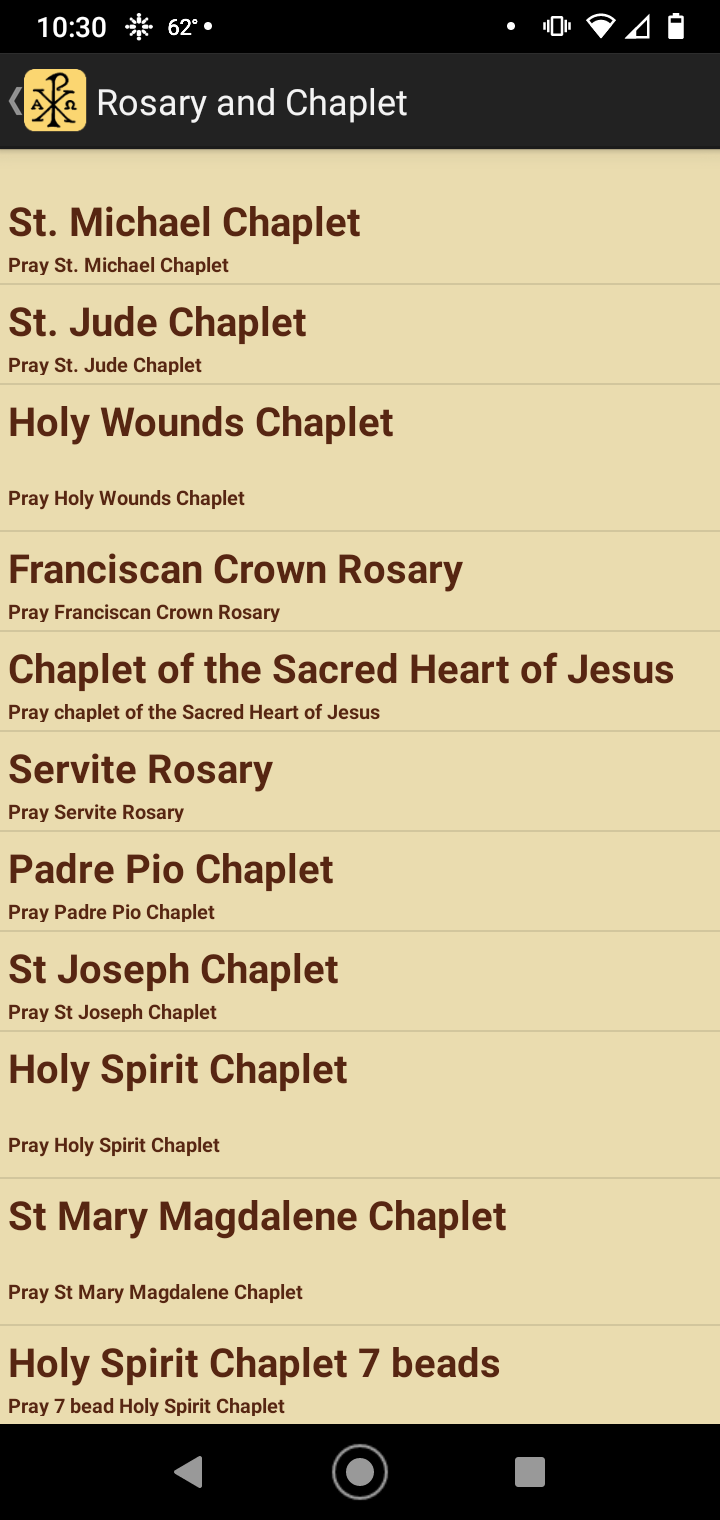 I'd love to say something about the author, or point him out on social media, but he's a bit of a mystery. I dug up the name Andrzej Krawczyk, but I can't find a profile on him anywhere. Wherever and whoever you are Andrzej, thanks for pulling so many great resources into one place!
---
Getting Technical
It's not a stretch to say the UI is a bit kludgy and it's tough to find all the gems buried in the layers of nested menus. No doubt the author realizes it though, because many pages have a bookmark button on them, and bookmarked items are collected under a single menu to find them easier next time.
It requests fairly minimal permissions. Internet and storage are no surprise. It requests the phone state, apparently to stop podcasts when a call comes in. It also requests network state, but I'm not sure about that one.
If you need help, there's a few FAQs, a single blog post serving as a support forum, and a couple support emails - ayckasoft@gmail.com and laudateapp@gmail.com. I love it though, and find the readings and reflections he pulls in from various sources to be a great way to start my day with a dose of hope!