Sick of the distractions in Twitter? Tired of the addictive elements designed to suck you further and further down the rabbit hole? Take control of your experience!
Open the "options" page and decide what you'd like to hide, such as:
Navigation bar items (like "Notifications" or "Messages")
Activity on tweets by others (like comments, faves, and likes)
Some media (like images)
Sidebars (like "Trends", "Live Video", "Who to Follow", etc)
Elements of others' timelines (including their profile, photos/videos, etc)
... and more
Available for Firefox and Chrome, as well as Brave (chrome extensions work natively) and Opera (requires an additional extension).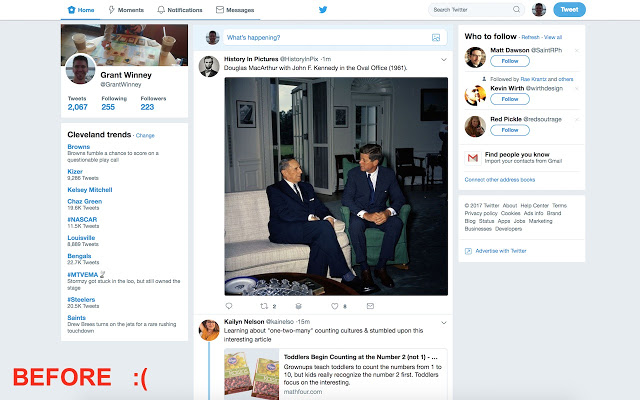 Your selections are stored using the "sync" feature, so they'll follow you between devices. Click on the icon in the toolbar to alternately enable/disable the extension.
If interested, you can read more about my experience here. In July 2019, I updated it for Twitter's new UI. Also, other thoughts on Twitter, automatically deleting old tweets, and using AWS Lambda to tweet random blog posts.
Source Code
Available on GitHub, as usual.
Permissions
The only thing this extension requests is permission to modify twitter.com, which is a given for an extension that hides parts of Twitter. 😏
Issues / Questions
If you have a question or problem, open an issue on GitHub and I'll address it as time permits. Since I'm no longer using Twitter, I can't promise anything.
Public Service Announcement
I dumped Twitter months ago. I highly recommend everyone try to limit their time, at the very least. Studies show that the more time we spend on social media, the less happy we are. It's a broken idea. Stick to forums more focused on your interest - like dev.to for programming - instead of general social media sites designed to suck up all your free time. Just my $.02... 😉