As of Feb 2020, Twitter Tamer is no longer available in the Chrome store, thanks to Google's draconian review process. More below.
---
Cutting the cruft
Sick of the distractions in Twitter? Tired of the addictive elements designed to suck you further and further down the rabbit hole? Take control of your experience!
Open the "options" page and decide what you'd like to hide, such as:
Navigation bar items (like "Notifications" or "Messages")
Activity on tweets by others (like comments, faves, and likes)
Some media (like images)
Sidebars (like "Trends", "Live Video", "Who to Follow", etc)
Elements of others' timelines (including their profile, photos/videos, etc)
... and more
It's available for Chrome, so it should work in Brave and Opera too.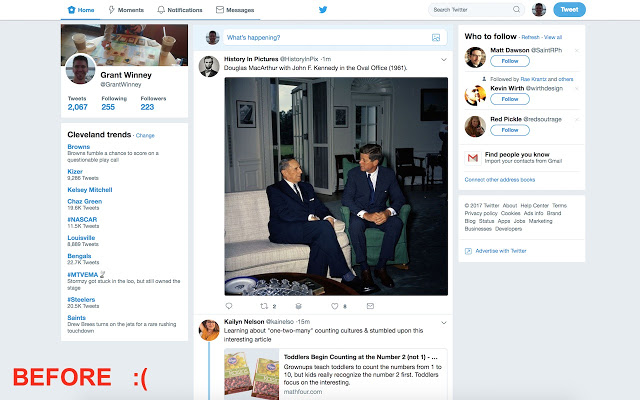 Your selections are stored using the "sync" feature, so they'll follow you between devices. Click on the icon in the toolbar to alternately enable/disable the extension.
If interested, you can read more about my experience here. In July 2019, I updated it for Twitter's new UI. Also, other thoughts on Twitter, automatically deleting old tweets, and using AWS Lambda to tweet random blog posts.
Source Code
Available on GitHub, as usual.
Permissions
The only thing this extension requests is permission to modify twitter.com, which is a given for an extension that hides parts of Twitter. 😏
Issues / Questions
If you have a question or problem, open an issue on GitHub and I'll address it as time permits. The project is now archived - see below.
Thoughts on Twitter
I dumped Twitter months ago. I highly recommend everyone try to limit their time, at the very least. Studies show that the more time we spend on social media, the less happy we are. It's a broken idea. Or the way we use it is broken. I don't know. Stick to forums more focused on your interest - like dev.to for programming - instead of general social media sites designed to suck up all your free time. Just my $.02... 😉
Google Shenanigans
As of Feb 2020, after 2 years in the Chrome store with 1100+ users and a positive rating, Twitter Tamer was rejected from the Chrome store. Google's draconian review process froze my latest update (just adding a new option based on an issue someone opened), and attempts to find out more details or further update the extension to appease them was met with inconsistent, cookie-cutter responses. Disappointing, but not shocking, as Google continues on its longtime path of jack-of-all-trades, master-of-none.
As a result, I pulled the extension from the store because they've made it impossible for me to fix future bugs, which will absolutely happen over time as Twitter updates their UI and moves things around. I don't use Twitter, so I have no impetus to move this forward and have archived the project on GitHub.
Alternative #1 (add it locally)
You could install it locally, but it's a pain.
Clone the GitHub repo to your machine.
Zip up the entire directory you clone it to.
Open the "extensions" section of Chrome, and toggle the "Developer" mode.
Upload the zip file.
Every time you restart Chrome you'll have to choose to leave "Developer" mode enabled. Yep, it's a pain.
Alternative #2 (use stylus and a stylesheet)
Install Stylus for Chrome or Firefox, click import, and paste this style sheet (available as a gist snippet on GitHub).
Remove the lines that you don't want hidden, or just prepend them with /* in case you'd like to adjust them later.
Alternative #3 (find a different extension)
Sometimes fewer options is better. Check out Productive Twitter by Sarah Drasner. It's just a stylesheet, similar in approach to what I linked above, but if you don't use Stylus or don't want to bother figuring it out, then this is for you.